Latest News
Fees have changed as of 2023
The LRRWMO has recently completed its 4th generation Watershed Management Plan. The Plan will guide LRRWMO activities from 2022-2031. The Plan was approved by the Minnesota Board of Water and Soil Resources and adopted by the LRRWMO Board of Managers on December 16, 2021.

CasinoIn Casino: Η Κορυφαία Προοριστική Επιλογή για Απερίγραπτη Καζίνο Εμπειρία
Το CasinoIn Casino αναδεικνύεται ως ένας από τους πιο συναρπαστικούς προορισμούς για τους λάτρεις του καζίνο. Με μια εντυπωσιακή ποικιλία παιχνιδιών και μια ατμόσφαιρα φορτισμένη από διασκέδαση, το CasinoIn Casino υπόσχεται μια αξέχαστη εμπειρία για κάθε παίκτη.
Το InCasino Casino προσφέρει μια εκτενή συλλογή από παιχνίδια, καλύπτοντας όλες τις προτιμήσεις. Από τα παραδοσιακά τραπέζια παιχνίδια όπως το μπλακτζακ και η ρουλέτα, μέχρι τα πιο σύγχρονα φρουτάκια, εδώ κάθε παίκτης θα βρει το αγαπημένο του παιχνίδι.
Εκτός από τα παιχνίδια, το CasinoIn Casino προσφέρει μια πλήρη εμπειρία ψυχαγωγίας. Με εκλεκτά εστιατόρια, μπαρ και εκδηλώσεις, οι επισκέπτες έχουν την ευκαιρία να απολαύσουν κάθε στιγμή της επίσκεψής τους. Καλωσορίστε στον συναρπαστικό κόσμο του CasinoIn Casino, όπου η διασκέδαση συναντά την πολυτέλεια!
Leon Casino: Η Αιχμή της Υψηλής Καζίνο Ψυχαγωγίας
Το Leon Casino αναδεικνύεται ως ο προορισμός για όσους αναζητούν την απόλυτη εμπειρία στον κόσμο των καζίνο. Με μια εντυπωσιακή αρχιτεκτονική και μια ατμόσφαιρα που διαπνέεται από πολυτέλεια, το Leon Casino συνδυάζει την ανυπέρβλητη διασκέδαση με την εκλεπτυσμένη αίσθηση του στυλ.
Το Leon Casino φιλοξενεί μια εκλεκτή συλλογή από παιχνίδια, καλύπτοντας κάθε προτίμηση και γούστο. Από τα δημοφιλή τραπέζια παιχνίδια όπως το μπλακτζακ και η ρουλέτα, μέχρι τους πιο συναρπαστικούς κουλοχέρηδες με τελευταίας τεχνολογίας γραφικά, εδώ ο καθένας βρίσκει την ιδανική πρόκληση για να δοκιμάσει την τύχη του.
Εκτός από τα παιχνίδια, το LeonCasino προσφέρει και μια εκλεκτή εμπειρία φιλοξενίας. Με εξαιρετικά εστιατόρια, κομψά μπαρ και χώρους ψυχαγωγίας, εδώ ο επισκέπτης βιώνει μια πλήρη εναρμόνιση της απόλαυσης και της πολυτέλειας. Καλωσορίστε στον συναρπαστικό κόσμο του Leon Casino, όπου η διασκέδαση αναδεικνύεται σε τέχνη!
About LRRWMO
The Lower Rum River Watershed Management Organization (LRRWMO) is a joint powers special purpose unit of government including the cities of Ramsey, Anoka, and portions of Andover.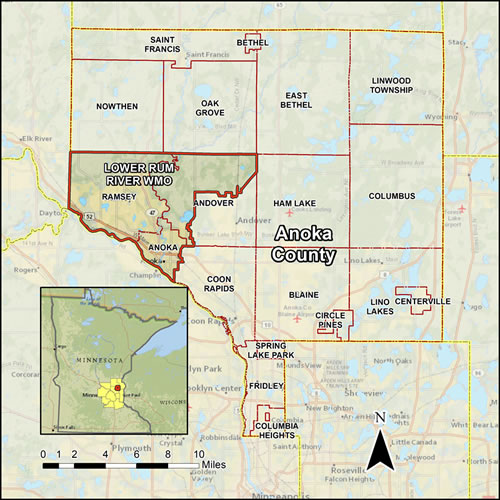 The WMO Board is made up of representatives from each of these cities. This organization seeks to protect and improve lakes, rivers, streams, groundwater, and other water resources across municipal boundaries. These goals are pursued through

water quality and flow monitoring
investigative studies of problems
coordinating improvement projects
education campaigns
a permitting process
others at the WMO's discretion
All of the WMO's activities are guided by their Watershed Management Plan.
Resources of particular importance to the LRRWMO include the Rum River, Trott Brook, numerous ditches that drain to the Rum River, Round Lake, Lake Itasca, and numerous wetlands. The Mississippi River is also notable, as it borders the southern edge of the WMO's jurisdictional area. Because little of the land area in the LRRWMO drains directly to the Mississippi, but rather to the Rum River, the Mississippi receives protection from the WMO primarily through management of the Rum.
Most projects that may directly or indirectly affect water resources are required to have a permit from the LRRWMO. If you are considering a construction project or projects in or around wetlands, streams, rivers, or lakes, you should further research permit requirements on this website, or contact a LRRWMO representative: 763-434-2030 x.14, 2015 First Avenue, Anoka, MN 55303.
Meeting Schedule
Generally, the LRRWMO meets on the 3rd Thursday of the month at 8am at the Anoka City Hall.
Upcoming Meetings:
Tentative Meetings for 2023:
| | | |
| --- | --- | --- |
| January 19 | February 16 | March 16 |
| April 20 | May 18 | June 15 |
| July 20 | August 17 | September 21 |
| October 19 | November 16 | December 21 |